First Solar, Inc. FSLR recently inked a multi-year agreement with Lightsource bp and BP p.l.c. BP for supplying nearly 5.4 gigawatts (GW) of First Solar's advanced, ultra-low carbon thin film photovoltaic (PV) solar modules. The agreement is likely to take First Solar a step closer to achieving its target in the solar module arena.
First Solar has also signed a memorandum of understanding (MoU). Through the MoU, the company intends to explore opportunities to source electricity from generation assets developed, owned and operated by Lightsource bp in Ohio. It is worth mentioning that First Solar operates the Western Hemisphere's largest solar manufacturing footprint in Ohio.
Details of the Deal
Per the deal, First Solar has secured orders for delivering nearly 4.4 GW of its modules, with options for supplying an additional 1 GW. These modules will be delivered during the 2023-2025 period.
The aforementioned procurement agreement, which marks the largest in First Solar's history, will support solar development pipelines of Lightsource bp and BP in the United States. As part of the agreement, First Solar is going to deliver 1.55GWDC of modules in 2023, 1.3GWDC in 2024, and 1.55GWDC in 2025.
First Solar's Long-Term Plans
To meet the increasing solar demand worldwide, First Solar has been consistently expanding its manufacturing capacity. In sync with this, in August, First Solar broke ground on its third manufacturing facility in Ohio, which comes with a 3.3GWDC capacity. Once fully operational, the facility is expected to scale up the company's Northwest Ohio footprint to a total annual capacity of 6GWDC, which is likely to make it the largest fully vertically integrated solar manufacturing complex outside China. Apart from this, the company has facility units in Vietnam and Malaysia.
First Solar is also eyeing opportunities in India, wherein the company intends to build a 3.3 GW factory. The facility is expected to be operational by the second half of 2023. With hefty investments in several projects, First Solar aims to double its nameplate manufacturing capacity to 16 GW by 2024. Such expansion plans will enable First Solar to maintain its position as the largest U.S. solar module manufacturer and fulfill its expanded manufacturing capacity targets. This, in turn, is likely to bolster its performance in the long haul.
Looking Ahead
Per a report from Wood Mackenzie, the United States is likely to witness an addition of 160 GW of solar capacity from 2021 to 2026, thus taking total installed photovoltaic solar capacity to more than 250 GW by the end of 2026. Considering the growth projections for the U.S. solar market, the aforementioned initiatives of First Solar are anticipated to yield results in the days ahead.
Other solar companies are also investing aggressively in the solar space in a bid to capitalize on the U.S. solar market's growth potential.
For instance, in March, 2021, Enphase Energy, Inc. ENPH announced a partnership with Florida's Urban Solar, which involves construction of a large-scale commercial solar system with a capacity of 719 kilowatts (kW). The facility will provide electricity to the Praxis of Deerfield Beach senior living community in Deerfield Beach, FL.
In the last reported quarter, Enphase Energy delivered an earnings surprise of 27.66%. ENPH has returned a solid 93.3% in the last one year.
Similarly, in October 2021, SunPower SPWR announced that it has acquired Blue Raven Solar for $165 million. The buyout provides SunPower the opportunity to expand its footprint in underpenetrated areas including the Northwest and Mid-Atlantic regions.
In the last reported quarter, SunPower delivered an earnings surprise of 200.00%. In the past one year, shares of SPWR have returned 32.6%.
Likewise, in May 2021, Canadian Solar RUN entered into a long-term power purchase agreement ("PPA") with Axpo Italia, which will enable the latter to buy electricity worth 12 megawatt-peak (MWp) from two solar plants in Italy. Canadian Solar's high-efficiency modules will be installed in these two facilities, which boast an estimated annual production of approximately 22 gigawatt-per-hour (GWh).
In the last reported quarter, Canadian Solar delivered an earnings surprise of 133.33%. CSIQ stock has returned 2% in the past one year.
Price Movement
In a year's time, shares of First Solar have gained 24.4% compared with the industry 's growth of 9.5%.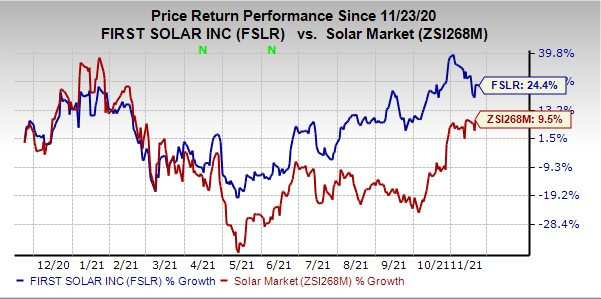 Image Source: Zacks Investment Research
Zacks Rank
First Solar currently carries a Zacks Rank #3 (Hold). You can see the complete list of today's Zacks #1 Rank (Strong Buy) stocks here .
Zacks' Top Picks to Cash in on Artificial Intelligence
In 2021, this world-changing technology is projected to generate $327.5 billion in revenue. Now Shark Tank star and billionaire investor Mark Cuban says AI will create "the world's first trillionaires." Zacks' urgent special report reveals 3 AI picks investors need to know about today.
See 3 Artificial Intelligence Stocks With Extreme Upside Potential>>
Want the latest recommendations from Zacks Investment Research? Today, you can download 7 Best Stocks for the Next 30 Days. Click to get this free report
To read this article on Zacks.com click here.